Providing High Quality Interpreters
Use our platform to schedule interpreters with ease and confidence. Everything will be set up for you with access to live support throughout the process.

Use today's technology to bring a video interpreter into a room to facilitate communication between people who sign and those who do not sign.
Our onsite support offers in-person interpreter coverage for various settings such as conferences, team meetings, and one-on-one meetings, ensuring seamless communication for all participants.

Enhance communication for your Deaf/Hard-of-Hearing employees with our comprehensive half-day training program. Get in touch with us to learn more about how we can support your organization.

Join our ASL classes via Zoom and learn American Sign Language from a qualified instructor on a weekly basis. Our classes cater to different skill levels, ranging from beginner to advanced, providing opportunities for individuals to learn at their own pace.
Video Interpreting is a video conferencing-based service where deaf and hearing consumers are in the same location (physical or virtual) and the interpreter is connected from a remote via a video platform.
Video Interpreting provides you a way to connect with the best and highest-quality interpreters of your preference from across the country, using your chosen off-the-shelf video platform including FaceTime, Zoom, Google Hangouts, or more.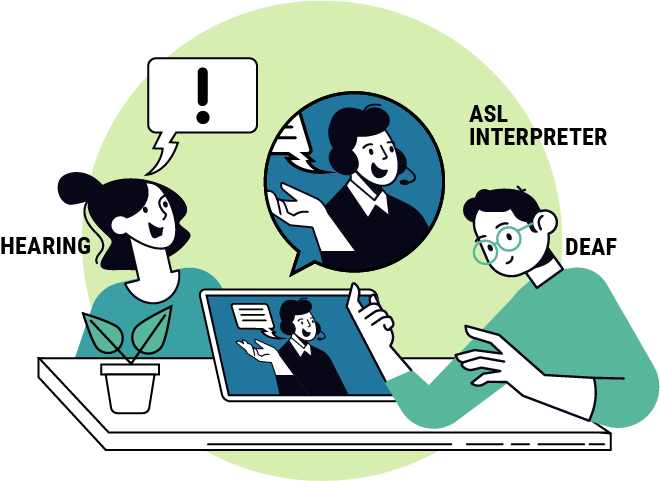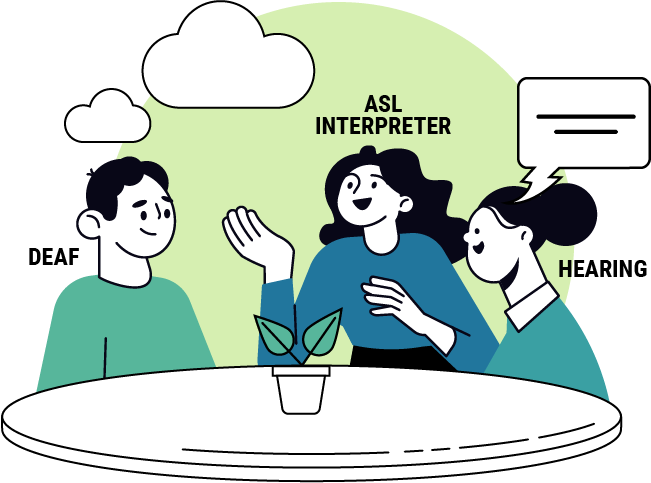 With onsite support, your conferences, team meetings and 1 on 1 meetings between 2 people can be covered with interpreters with you in person rather than getting an interpreter via video.
Don't take our word for it. Trust our customers!
Partnering with Interpreter-Now for our virtual programming has been a seamless process. I am always impressed with their quick response times and the quality of interpreters. They are professional, personable, and amazing to work with.
For the past two years we have relied on Interpreter Now to provide ASL for webinars, media video content, online conferences, and virtual and in-person meetings. The professionalism and quality of interpreters is exceptional. The scheduling process is well organized and easy to access and the response time is superior, even being responsive to, and meeting, last minute requests. The team at Interpreter Now has also provided insight on ways to ensure full communication access and been a huge asset in advising and supporting our work and that of our partners.
Interpreter-now is an indispensable tool for my business. Their interpreters are top-notch, and their platform is user-friendly and reliable. Highly recommended!
As a Deaf client of the Interpreter Now agency, I am grateful that I do not need to worry about them sending unqualified interpreters. It reduces the burden on me as a Deaf client. Thank you for having a fantastic screening process to ensure you hire qualified interpreters for us.
Interpreter-Now has made a difference in my professional journey... I-N has been phenomenal in securing interpreters for my first nonprofit leadership class virtually. As a person of color, I really wanted interpreters that looked like me in this level of work and you were able to meet my expectations. I thank you for your time and attention to my request and I'm forever grateful!
As a Deaf entrepreneur that uses interpreters frequently in my workplace, I have been beyond satisfied with Interpret-Now's ability to fill my request and match me perfectly with interpreters that are not only qualified and efficient but also have the technical language and awareness needed to interpret a variety of professional industries.